Oh, how I have neglected my poor food blog! Okay. I have a lot of these to do so let me knock these mofos out! There is this wine bar on Sunset Blvd. that I went to with Laura that is amazing. After a Shakesphere play at Griffith Park (which is sadly over) we headed to a wine bar that was amazing.
The atmosphere was very cool. The music was good. And the patrons were very awesome. Everyone there was there to have a good time and a good time was had by all. We started with a red wine that while they came in small glasses were very good. I'm not used to drinking wine that is room temperature but I guess that's how its supposed to be had sometimes. I took this picture and have no recollection of doing so.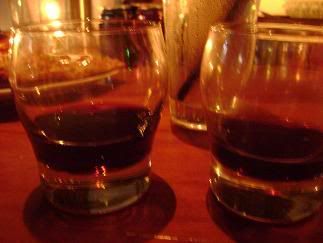 We also had a couple of pizzas. No, we didn't eat both because we shared with the people at the bar. The pizzas were very good as well. This place (wish I could remember its name) has board games at the bar. I won at both Connect Four and Uno thank you very much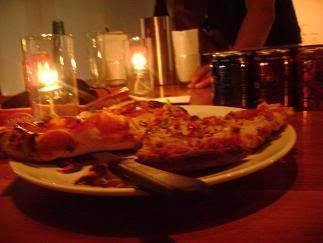 This spot is located near Tender Greens on Sunset Blvd. The bartender was nice and everyone at the bar got along like we were all friends who decided to hook up after work or something. I seriously cant wait to go back.