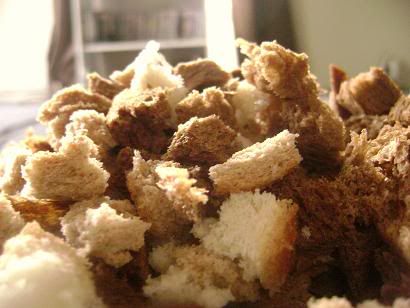 So this past weekend I made this stuffing for my cousin Malakia to take to a dinner/early Thanksgiving thing she was going to. I make this stuffing every year but not last year being unemployed and all. Didn't do my yearly after Thanksgiving dinner at all. This year, same thing. So I was happy that I could make this.
I got the idea for it years ago. And ex got the recipe from a newspaper article and made it but it tasted odd. I knew something was off but not quite sure what that something was. Years later I made it myself and discovered that too much sage was used and not enough milk. Let me just explain what's in this stuffing that my mother refuses to call stuffing or dressing.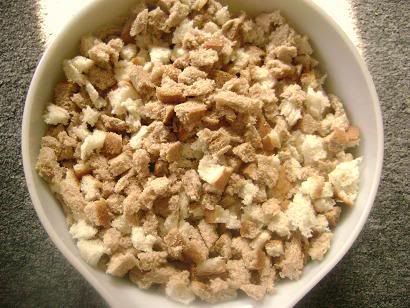 First I take three different types of bread. It really doesn't matter what kind as long as one of them is dark rye. Jewish, Russian, whatever. I break it into lots of small pieces (this is the longest part of the process). I then take three of four raw eggs and mix it with the bread crumbs. Next I chop up one cup of mushrooms, one cup of celery, and one cup of chopped onions. In a skillet I use about two cups of milk and a pat of butter. I simmer the milk and butter and then toss in all the chopped vegetables. I add a tablespoon of sage to this. Be careful because a little bit goes a long way.
After its been boiling and your kitchen smells awesome I dump the contents of the skillet into the bread and egg mixture. Make sure you mix it well. While that is sitting there take a pan (foil or glass, it doesn't matter) and spread some mushroom soup (I used celery and no mushrooms whatsoever for my cousins stuffing I made) at the bottom of the pan. I like to use two cans for maximum goodness. Taking the mixture in the bowl out in clumps, just place it on top of the mushroom soup. Toss it in the oven for half an hour at 375 degrees. You can eat it immediately or let it cool off. Whatever.
Hope someone tries this and likes it. The smell alone is worth making it.