So I went to Denny's with Kiyoshi and Flo a couple of days ago. I hadn't been in a long ass time. I'm more of a IHOP guy myself. But it was good. I got pancakes, eggs (scrambled of course!), bacon, and sausage. It was the smaller Denny's on Sunset and cool. Not all loud and crazy like some of those places get. Ever been to the "Rock & Roll Denny's"? I think they shut it down after a shooting. I went there before. Fucking disaster.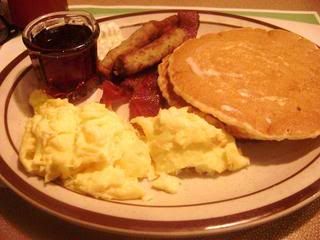 There was some chick with a jacket on. That's it. She just had a jacket on. Cops were all over the place and folks were getting arrested. I was like "Why in the hell would anyone eat here on purpose?!" Anyway, I enjoyed myself. it's the conversation. I like places where I can just sit and talk and the wait staff doesn't bug you and try to rush you out.
I had a mango strawberry tea that they didn't refill and wanted to leave a small tip but Flo got all Harvey Keitel on me.