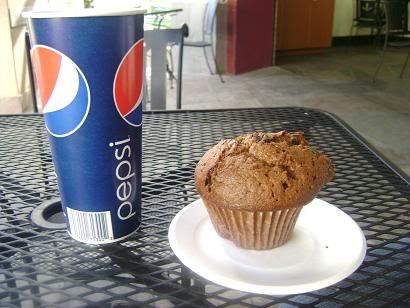 Everyone knows I like bacon. I also like burgers. I also like when the both of them get together and have orgies in my mouth. Yesterday me and my lady had various foods from various places. The first was the L.A Zoo where we bought a delicious cappuccino muffin with Sprite. That muffin was awesome. I let Jess eat the crunchy parts since she is a crunch fiend. They made this thing so well. The chocolate chips inside were the proverbial icing on the cake.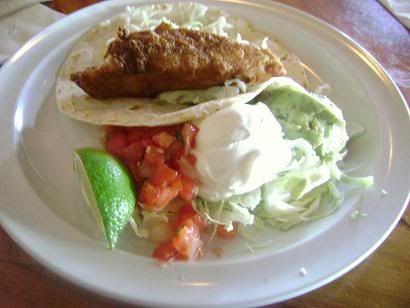 Later we headed to Duke's in Malibu. Bring lots of money when going to Duke's! We got there early and enjoyed their fish tacos. Get the beer battered ones. Trust me. They come in sets of two and run you about $8 but are filling. They have a ton of guacamole, salsa, and sour cream on the side. We were gonna eat an actual dinner there but the menu is nothing to write home about.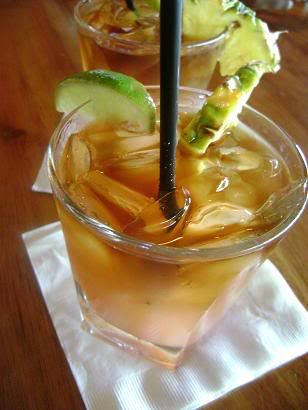 Their mai tais on the other hand are awesome! I like fruit juice (but not actual fruit, go figure) and this had a lot. And remember to stir. Once the booze shows up its an actual party. Its in a decent size glass so depending on how much of an alkie you are one or two should be just fine.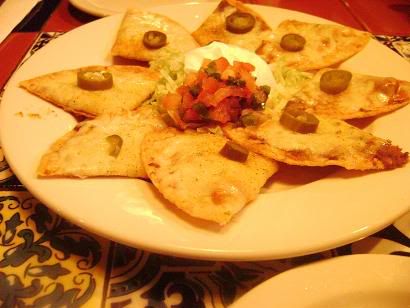 We headed on over to Chili's in Westwood and got their $20 deal. Now, don't go in there thinking you're gonna get some lame ass tiny meal for $20. No. We first got the appetizer which was this nacho dish with jalapeno, beans, salsa, sour cream, and cheese. It in itself was filling. It wasn't just because we had the fish tacos earlier. This was just big.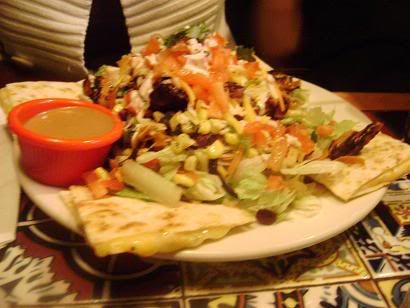 Next were out meals. Jess got this ginormous ass salad with chicken in it. I'm serious. This thing was monstrous in size. She was only able to eat about a quarter of the thing. She liked it. I didn't try it out. I was saving myself for my burger which I expected to be just the best damn thing to party in my mouth all day.
My bacon burger shows up and its huge. The fries were seasoned perfectly. In case you wanna know, I got Sprite to go along with it as it wouldn't interfere too much with the meal. The waiter was really fast and we had received everything including our dessert in less than 20 minutes of being seated. Everything was hot and tasted very good. We never got around to eating our dessert because we were too full. it's a chocolate lava thingy with caramel and vanilla ice cream. Yes. Instant mouthgasm.
If you live near a Chili's go there and get this deal. You will be happy you did. If you head to Duke's, just get there early and head straight to the bar section and get some booze for happy hour and the fish tacos. Unless you wanna pay $20 for just your meal alone.