Yesterday for my birthday Cam took me to this place in Hollywood called
Shin
. Its Korean barbecue (which I am used to seeing on Wilshire in K-Town) and very good. Thank the gods of Groupon because Cam had one and it saved her a lot on the meal.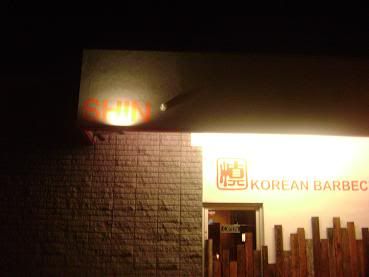 We started off with this multitude of small dishes which included vegetables, this amazing mashed sweet potato that I'd never had before and tasted great, kim chee, and many other things. There was this one flat bread wheat something or other that was so damned good! You could eat it cold but there is a grill in front of me and I'll be damned if I'm not gonna use it!
They don't have a huge variety of vegetable dishes and even the tofu soup contained beef broth. Cam passed on the soup and I got this massive bowl of soup with beef strips. It was spicy and had my nose running but tasted delicious.
The food came and I had the steak, Cam got this weird thing that looked exactly like steak but wasn't, and we both had the spicy chicken. Funny thing about the steak that wasn't, we were so unsure about what it was that we grilled it and I tried it to confirm what it was. It was not steak.
I have been to places that allow you to grill you food right at your table and this was the best in terms of ventilation. Sometimes you sit there and the smoke just goes in your eyes and you eat food with blurred vision. If you get the Emperor's meal it comes with all the small dishes, great cold green teas, hot tea, the three meats, and a dessert.
Oh, the dessert! I have never had a green tea pancake. I didn't know it existed. We tore this thing up! It was a green tea pancake with the best crust and fluffiness I have ever had with brown sugar and cinnamon in the center, and topped with vanilla ice cream. It was so good and by the time we were done we were stuffed.
If you have some cash to spare head to this place and have a great meal.
Shin
was nice, the lighting was good, the staff was nice, the bathrooms were clean, and our waiter Mike was really funny, fast, and honest.