A few weeks ago I went to grab some breakfast with my homeslice, Laura. I had planned on getting the same old and having some breakfast. Laura suggested this place called Loteria at The Grove over here near Farmer's Market. Oh, I am so glad we went here. Its buried amongst all the other tons of places at Farmer's Market. Just pull up a seat at the counter and enjoy the smells.
We got these chips with really good salsa. It wasn't the kind like you get at the store that has big ass chunks of tomato that you know isn't real but its all you can buy. This was really good and spicy but not so spicy that the flavor was lost.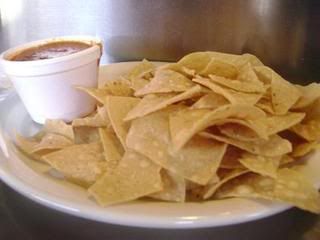 I had to ask Laura to name the stuff I had so here goes. I had the huevos con chorizo and it was amazing! I almost snorted it up my nose. It was very filling and I didn't expect it to be. On the side was some mashed potatoes that had some green stuff in it. I don't know what they were but they didn't take away from the flavor. What I loved about the potatoes was that I didn't have to add anything. And of course Limeaid is very win. Also black beans which I didn't eat but I dipped my chips in.
Laura got this. Not sure what it was but it looked like it tasted great.