I know I have written a few blogs about good burgers. Today I was introduced to this place called The Counter on Centinela and 31st (I think…) in Sana Monica that had one of the best burgers I have ever had in my life. Definitely in the top three and may be number one.
There was nothing to not like about this place. The music was awesome. I heard everything from Mos Def to Carlos Santana within minutes of each other. The atmosphere was wonderful. Not too bright and not too dark. This actually affects how I enjoy my meals. Clean bathrooms. Friendly and fast waiters (ask for Ashley) and even though the place was packed we got seated immediately.
The Counter is different in that they give you a clipboard with a checklist of what you'd like on your burger. There are so many choices of things I would never think to put on a burger and sauces I had never heard of. I'll get to what I got on my in a moment.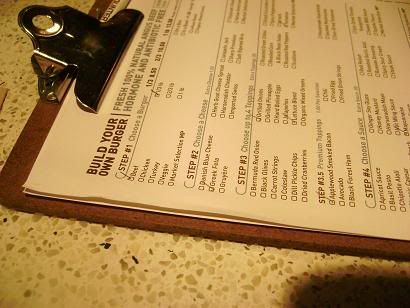 I started off with a vanilla shake. Damn, this thing was good! It was real. Camille was horrified when I told her what was used in the McDonald's shakes. This was a bit pricey but after my first sip of it that scene from "Pulp Fiction" played in my head when they paid for an expensive shake. If its delicious its worth it and you really cant complain.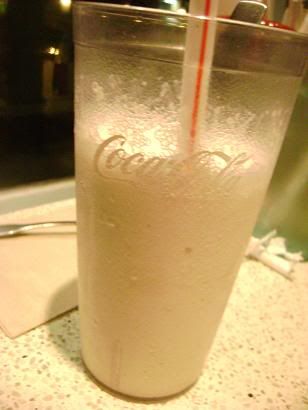 Next we got fries and fried pickles. The fries were actually perfect. I didn't need to add salt or even use ketchup. They were just great the way they were. Camille ordered the fried pickles and I had never had them before. So good! They came with an apricot sauce to dip them in and I was shocked at how good they tasted. Yes, that's Camille's hand doing another run-in.
On to my burger. I got a 1/3 pound burger. I asked if I should get the 2/3 pound one and Camille laughed. Thank god I got the "smaller" one. It was ridiculous in size! It had grilled onions that literally melted in your mouth. Greek feta cheese. Bacon. Mayo. A strong barbecue sauce that I drizzled on top. I am still full from this thing and want some more! I had to use two hands the entire time while eating this beast! I was so full and giddy I couldn't stop laughing, even as I waddled out of the place.
Camille got a vegetarian burger that actually looked good. It had some fancy cheese and stuff. I really should keep track of what my friends eat.
If you are ever in Santa Monica you really should go to The Counter. I absolutely adore this place and will be back at least two more times before the end of the year!